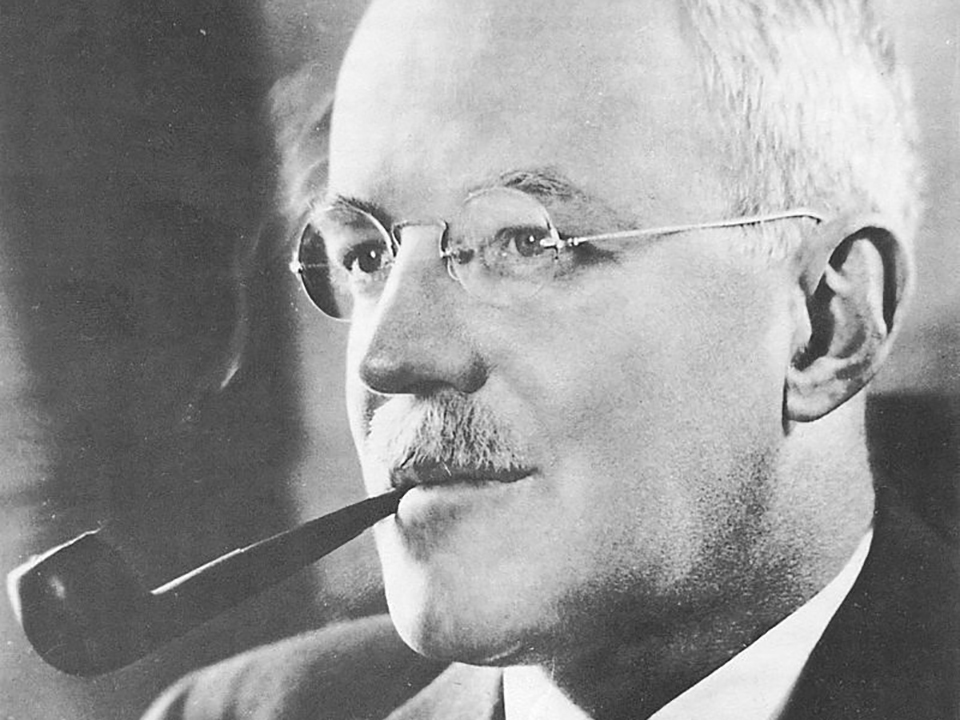 Allen W. Dulles (1893-1969) was many things before he became the Office of Strategic Services' (OSS) "Our Man in Bern." After graduating from Princeton, he joined the State Department's Foreign Service in 1916 and was assigned to Bern, Switzerland. His acceptance to the Foreign Service was probably not harmed by family connections to the State Department. His maternal grandfather, John W. Foster, was Secretary of State under Benjamin Harrison, and his uncle by marriage, Robert Lansing, was Secretary of State under Woodrow Wilson.
According to Dulles' later writings, he told of receiving an urgent phone call on April 8, 1917 from a Russian émigré in Bern who wished to talk to him. Dulles had a scheduled  tennis match that day and turned him down. The émigré was Vladimir Ilyich Ulyanov, better known to history as Vladimir Lenin. Lenin was deported the next day and sent on a sealed train to St. Petersburg, Russia. Dulles later told new recruits to the CIA to always meet with potential agents.
Dulles survived the 1918 Flu pandemic, and in 1926, Dulles became a lawyer and joined his brother, John Foster Dulles at the Wall Street law firm of Sullivan and Cromwell. (John was future Secretary of State to President Eisenhower, and famously drew the wrath of Winston Churchill who described him  as "A bull who carried his own china shop around with him." Churchill also created a stinging superlative adjective: "dull, duller, Dulles.")
In 1940, Dulles ran into a fellow Wall Street lawyer at the Republican Party convention. His friend, William Donovan, the future chief of the OSS, suggested that Dulles might be interested in joining a proposed American intelligence service if the US was pulled into the current European war. When the US did join the war after December 7, 1941, Dulles joined the newly formed OSS as Agent 110 and he requested assignment to Switzerland, based on his prior experiences there.
Dulles arrived in Switzerland in November, 1942, where he made little effort to disguise his role in Bern. Swiss newspapers identified him as a personal representative of President Roosevelt, with "special duties." Dulles preferred this high profile as it encouraged potential agents to flock to him. His British counterpart, Frederick Vanden Huevel, the Secret Intelligence Service (SIS) station chief in Bern had a few pangs of jealousy over this and Dulles' lavish budget. (SIS is the official title of "MI6"). Dulles soon developed two important contacts: a German diplomat, Fritz Kolbe, and Hans Bernd Gisevius, attached to the German Consulate in Zurich, but in fact an Abwehr officer. Gisevius would later be a key witness at the post war Nuremberg trials.
These two men provided valuable intelligence throughout 1943-45 on a wide range of subjects, including the German resistance movement, plots to kill Hitler, and the development of V-1 and V-2 weapons. Unfortunately, OSS in Washington was skeptical of both Kolbe and Gisevius as sowing disinformation.
Perhaps Dulles' biggest success was "Operation Sunrise," in which he  conducted a series of secret negotiations from February to May of 1945 with Waffen SS Obergruppenführer Karl Wolff. (Obergruppenführer is the equivalent of a Lieutenant General). Dulles and Wolff met in Lucerne  and then near Lugano, in the Italian speaking Canton adjacent to Italy. Essentially, Wolff offered to surrender the 225,000 men under his command, which then expanded to Army Group C, a force of about 585,000 men, including the German 10th and 14th Armies and Italian Army Group Liguria. By the time the surrender was signed on April 29, 1945, in Caserta, Italy, German army elements in southern Austria were included and the estimated number for the surrender was  one million soldiers. The surrender became effective on May 2, 1945, five days before  General Alfred Jodl signed the final unconditional surrender on May 7, 1945 at Reims, France.
Karl Wolff was a beneficiary of the surrender as he was not prosecuted at Nuremberg, despite being involved in and guilty of a number of war crimes. This would later tarnish Dulles' reputation.
Operation Sunrise created a few shock waves among both ally and enemy. When Stalin learned of the negotiations and the surrender, he once again feared that this was part of a separate agreement with the Third Reich, and a possible alliance against the USSR. Hitler's successor, Admiral Karl Doenitz, was caught off guard by the surrender and probably felt betrayed. In any event, Dulles' reputation was secured and would lead eventually to him joining the CIA, in 1951, a few years after its formation replacing the disbanded OSS. He was appointed Deputy Director Plans, the CIA's vague euphemism for what is today called the Clandestine Service. In 1952, after the election of President Eisenhower, Dulles became the first civilian Director of the CIA.

Dulles Receives the National Security Medal, November 1961. Courtesy of the CIA Archives.
Dulles career was not without controversy. He had a fondness for an extravagant lifestyle, women other than his wife, and risky covert operations. During his tenure as Director, the CIA was involved in coups in Iraq (1953) and Guatemala (1954). A final attempted coup, the Bay of Pigs invasion of Cuba in April 1961, turned into a fiasco that ultimately led to President Kennedy dismissing Dulles on November 29, 1961, after the consolation prize of awarding him the National Security Medal the day before. Dulles was the longest serving CIA director so far.
Dulles had enormous influence on the post war US intelligence system. His personal negotiations for the surrender of the entire German army in Italy and southern Austria prevented needless fighting and saved the lives of many Allied and Axis soldiers.
Further Reading
Max Hastings, The Secret War: Spies, Cyphers, and Guerillas, Harper Collins, 2016, (p. 305-313)
Keith Jeffery, The Secret History of MI6, Penguin Press, 2010, (p. 509)
Christopher Andrew, The Secret World, A History of Intelligence, Yale University, 2018
Neal H. Petersen, From Hitler's Doorstep: The Wartime Intelligence Reports of Allen Dulles, 1942-1945 1st Edition Penn State University Press, 2010. (Excellent primary source edited by a former State Department historian.)
Allen Dulles, The Secret Surrender (N.Y.: Harper & Row, 1966)
Allen W. Dulles, The Craft of Intelligence, 1963
Allen Dulles in wartime: The Exploits of Agent 110 by Mark Murphy
Operation Sunrise: America's OSS, Swiss Intelligence, and the German Surrender 1945. Stephen P. Halbrook

This article is part of an ongoing series commemorating the 75th anniversary of the end of World War II made possible by Bank of America. 

Walter Wolf joined the Museum in October 2019 as the Museum's first intellectual property Rights Manager in the Curatorial Department. Walter has a Bachelor's degree in Modern European History and a Juris Doctor degree in law. He also has a certificate in Espionage and Covert Operations from the University of New Orleans. 
Michael Novakhov's favorite articles on Inoreader