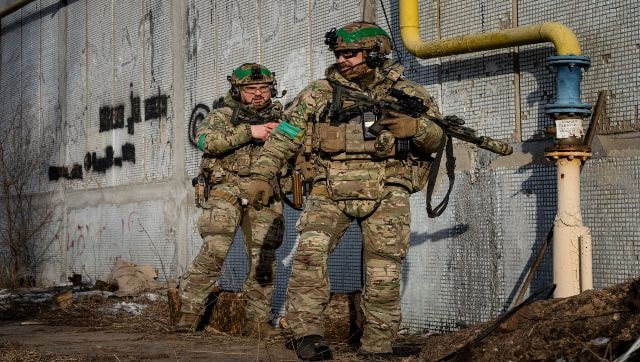 Ukrainian servicemen of Rapid Operational Response Unit (KORD) patrol a street in Bakhmut, Ukraine, on 24 February, 2023. AP File
New Delhi: The commencement date for Ukraine's counteroffensive against Russian forces has been set for 30 April, Newsweek reported on Sunday, citing a leaked Pentagon document.
The document, dated 28 February, describes equipment deliveries and a training timetable for nine brigades that, with assistance from the US and its allies, "can be generated for the spring counteroffensive". According to the documents, three more brigades are anticipated to be recruited "internally" in Ukraine.
Out of the nine brigades trained and equipped by Western countries, six will be ready by 31 March, while the final three will be ready by 30 April, the document claimed.
During a recent trip to the US, Ukrainian Prime Minister Denis Shmigal told The Hill that the offensive might not start until the summer.
Addressing the reporters on Monday, the prime minister said he believed Kiev's plans would not be affected by the Pentagon leak and that "we are confident that the counteroffensive will happen in the nearest future."
A trove of classified US documents, including intelligence reports and daily updates on the Ukraine conflict, came to the attention of news organisations in April after being dumped online sometime earlier this year. The suspected leaker, US airman Jack Teixeira, was arrested by the FBI last week.
Kremlin spokesman Dmitry Peskov said on Friday that Moscow had looked into the leaked documents, although Russian Deputy Foreign Minister Sergey Ryabkov has suggested that some of the files could be part of a "deception" campaign.
Much-anticipated Ukraine counteroffensive 
Oleksiy Danilov, the secretary of Ukraine's National Security and Defense Council, told The Associated Press in an interview in Kyiv that Ukraine will launch its counteroffensive against Russian troops when it's ready, adding that it's only a matter of time before the country achieves the necessary level of military preparedness to do so.
He said Ukraine's allies are helping the government to achieve the level of technical equipment necessary to launch the attack, delivering heavy armored vehicles and ammunition.
But he also expressed frustration that sometimes officials from allied countries "promise one thing and do a completely different one." He didn't elaborate.
"If we aren't ready, then nobody will start unprepared," he said.
Stalemate in war
Russia's war in Ukraine has turned into a stalemate amid heavy fighting in the country's east, particularly around the town of Bakhmut which for eight and a half months has been the stage for the war's longest and bloodiest fight.
Bakhmut lies in Donetsk province, one of four provinces Russia illegally annexed last fall. Moscow controls about half of the province. Bakhmut is a stepping stone to seizing the remaining half.
Ukrainian officials have said they're buying time by depleting Russian forces in the battle while Kyiv prepares a counteroffensive. Zelenskyy argues that if Russia wins the Bakhmut battle, Russian President Vladimir Putin might be able to begin building international support for a deal that would require Ukraine to make unacceptable compromises to end the war.
With inputs from agencies
Read all the Latest News, Trending News, Cricket News, Bollywood News,

India News and Entertainment News here. Follow us on Facebook, Twitter and Instagram.
Updated Date: April 18, 2023 13:51:40 IST